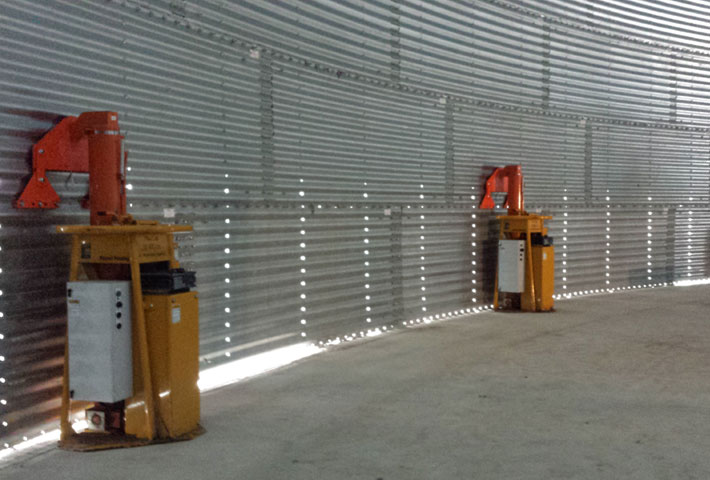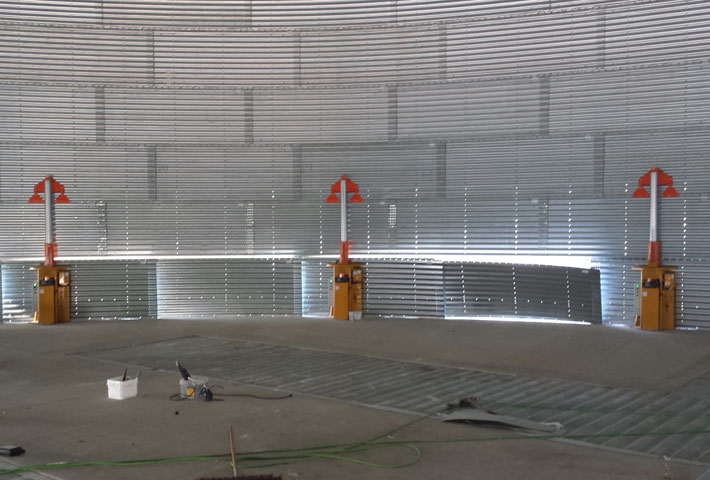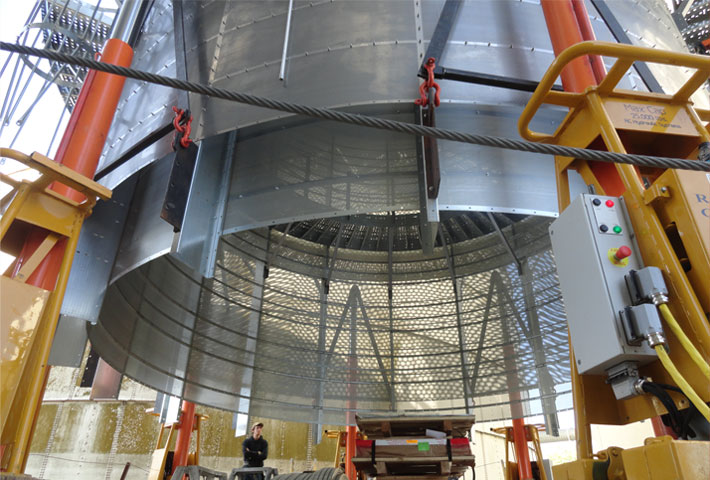 5 MINUTE GRAIN BIN LIFTS.
Whether you're lifting a 105' or a 135', even a 156', RC Hydraulic Systems jacks lift at 12 inches per minute or faster. Get 8 lifts in a day with no chains to change, no hoses to trip over and being rated up to 30,000 pounds per jack, that's significanly less jacks on the wall.
BIN JACKING JUST GOT EASY.
No more wrinkles in dryers, keep grain bins in-round, incredible stability to wind. No PTOs spinning, over 4 inches of clearance to get sheets behind the jacks and no cords in the way when you're working. DC jacks charge overnight or in a few hours.
LIMITLESS CAPABILITIES.
Available in 24V DC or 440V AC configurations. wired or wireless. rc hydraulics are designed to lift virtually any kind of tank, any weight, any size, while staying level within 1/32nd of an inch.

computerized hydraulic lifting for commercial grain tank construction
We at RC Hydraulic Systems have designed a hydraulic jacking system for the large grain tanks and silos that are being built today. We can build the largest size projects on the market today including the 105's, 135's and the new 156's. We can do this safely and quickly.

Our jacks are built for stability even under conditions that will stop most other jacks from operating. They are mounted securely to the floor and using the massive cylinder as a beam, will support the structure even in higher wind loads.

Each DC grain bin jack has it's own 24 volt power supply, hydraulic pump, reservoir, computer and radio. They are all linked to a central computer that controls all aspects of the jacking operation. There are no hoses or electrical cables connecting the jacks. Everything is done via a wireless controller.

Each jack is capable of lifting 30,000 pounds which allows fewer jacks to raise a tank. That coupled with a large 4 1/2 inch clearance from the tank wall gives the workers plenty of extra room to quickly insert sheets.

In operation, the Jacks are attached to the wall, the computer automatically loads the jacks, then lifts the structure holding tolerances within 1/32nd of an inch. The jacks fold back from the wall during retraction.